S.F.D. Mission #1: Open Letter to Mackenzi Lee, Author of This Monstrous Thing
Dear Mackenzi Lee,
Hello! My name is Angel and I love books, mainly within the fantasy and crime/mystery genres. So when I found out about This Monstrous Thing a couple of months ago from other bloggers on Twitter who were gushing about it, I was intrigued. I'd never read Frankenstein nor was I dying to go read it as I knew the basic story behind it. However I took a look at This Monstrous Thing on Goodreads anyway.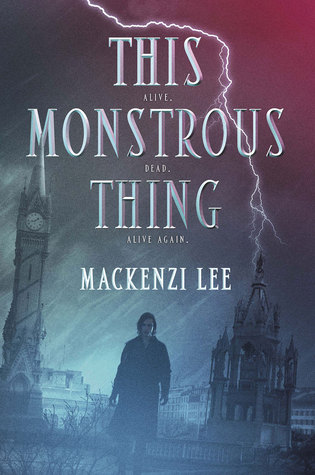 The first thing I noticed about TMT was its gorgeous cover. Now, I will say I'm slightly guilty of judging books by their covers as a first impression, and TMT gave me a very very good first impression. The cover is gorgeous and amazing but you probably already knew that. I love it though because of the colors and the interesting image. It feels very Frankenstein-y if that makes sense. It reminds me of the Once Upon A Time version of Frankenstein's story which I liked so that's good.
Now onto the synopsis. The idea of clockwork and monsters and a bit of hiding and mystery is definitely intriguing. The clockwork reminds of the Infernal Devices by Cassandra Clare and I love monsters, hiding and mystery so very very good combinations in my mind.
Anyway, I have no more real words for how much I can't wait to read this book (the rest are Ashfsnfesigeowqa/fangirling language). So thank you for this most likely awesome book, I can't wait to read it, have a nice day and tata for now!
Fantasy Angel
**To see the rest of the letters, check out my fellow members' blogs: