City of Ghosts by Victoria Schwab – Review
*this post includes affiliate links I have with Amazon*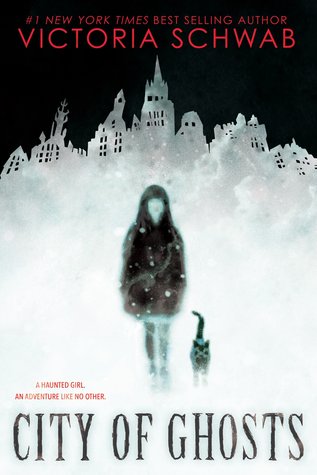 Hello everyone!! So, today I am reviewing City of Ghosts* by Victoria Schwab which actually also comes out today! It's a middle-grade (MG) paranormal fantasy that, tbh, I didn't know if I would like or not because I don't really read MG or paranormal much. And then I read it and finished it in like an hour or so and I LOVED IT! I'll let you know why in a little bit but, before we get into my (not really spoilery) review, here's the synopsis, via Goodreads:
Cassidy Blake's parents are The Inspectres, a (somewhat inept) ghost-hunting team. But Cass herself can REALLY see ghosts. In fact, her best friend, Jacob, just happens to be one.

When The Inspectres head to ultra-haunted Edinburgh, Scotland, for their new TV show, Cass—and Jacob—come along. In Scotland, Cass is surrounded by ghosts, not all of them friendly. Then she meets Lara, a girl who can also see the dead. But Lara tells Cassidy that as an In-betweener, their job is to send ghosts permanently beyond the Veil. Cass isn't sure about her new mission, but she does know the sinister Red Raven haunting the city doesn't belong in her world. Cassidy's powers will draw her into an epic fight that stretches through the worlds of the living and the dead, in order to save herself.
Sounds cool, eh? It is!! Let's get into the review….
first off, it reminds me a little (or a lot) of the show Danny Phantom which made me love City of Ghosts even more, considering Danny Phantom is one of my most favourite childhood shows.
it was really cool to read about Edinburgh as I follow Victoria Schwab on Twitter and see her posts about when she's there and so it was cool to make the connections and be like "wow, Victoria was there! She saw these places!" lol
another thing I loved that actually surprised me quite a bit was the number of Harry Potter references in the book. There were quite a few mentions of JK Rowling and the series, as well as nods to other pop culture icons, which dated the book, yes, but also made me feel a little closer to it as I could relate to the characters.
the plot itself is quite interesting and surprising as you don't really realize where the plot is going until it starts actually going which I found both bad and good. Like, in the beginning, there are a couple moments which you think are very *shrug*/not that special until you get farther into the plot and start seeing connections.
As well, it was a little hard to keep in mind that it was middle grade and meant for much younger readers who probably aren't used to the overwhelming page number and complexity of most young adult fantasies, paranormal or not. Considering I'm an adult young adult age-wise and read mainly YA or adult, that's something that's on me and not something against the book….it just took a bit for me to just enjoy the book over me wanting there to just be more.
In terms of the characters (both main and secondary), I really enjoyed them and realllly can't wait to read more about them in what I hope will be upcoming books (Jacob is faveeee)! The funny/good thing was that the parents reminded me a bit of those from Danny Phantom just because of the nature of their jobs but they also were very distinct in their personalities and actions so it still felt quite separate from Danny Phantom –> Danny Phantom and City of Ghosts weren't copies of each other or anything but that Danny Phantom could be used as a sort of comparison piece of work (if that makes any sense)
Overall, I reallllly enjoyed City of Ghosts* and can't wait to read any upcoming books in what I believe will be a series! So, now I ask you, have you guys read City of Ghosts yet? If so, what did you think and who is your favourite character? And let me know if you typically read middle grade or not as I'm interested to hear about that too, please. Let me know in the comments below!! If you haven't read it yet, what's stopping you lol?! Get your ghost on and read this fabulous book!! Anyways, thanks, have a great day/night and tata for now!
Angel
*this post includes affiliate links I have with Amazon 😀