This Mortal Coil by Emily Suvada – Review
*this post includes affiliate links I have with Amazon*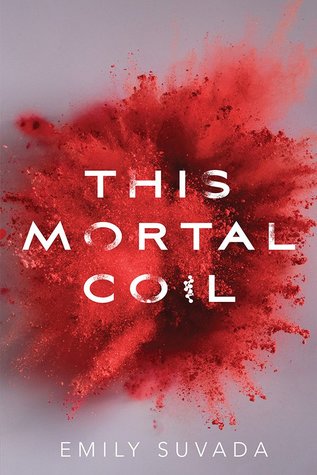 Hello everyone! So, this past Book Con, I somehow got an ARC of This Cruel Design by Emily Suvada which I didn't realize was second in a series till I got home. At the insistence of my friends and after reading the Goodreads summary, I decided to take the jump and read the first book This Mortal Coil*. Since Cruel Design comes out today (yayyy!!), I figured I'd post my review for TMC now, and my review for This Cruel Design* will be up in a couple of days! Before I get into my (non-spoilery) review for This Mortal Coil, though, here's the synopsis, via Goodreads.
Catarina Agatta is a hacker. She can cripple mainframes and crash through firewalls, but that's not what makes her special. In Cat's world, people are implanted with technology to recode their DNA, allowing them to change their bodies in any way they want. And Cat happens to be a gene-hacking genius.

That's no surprise, since Cat's father is Dr. Lachlan Agatta, a legendary geneticist who may be the last hope for defeating a plague that has brought humanity to the brink of extinction. But during the outbreak, Lachlan was kidnapped by a shadowy organization called Cartaxus, leaving Cat to survive the last two years on her own.

When a Cartaxus soldier, Cole, arrives with news that her father has been killed, Cat's instincts tell her it's just another Cartaxus lie. But Cole also brings a message: before Lachlan died, he managed to create a vaccine, and Cole needs Cat's help to release it and save the human race.

Now Cat must decide who she can trust: The soldier with secrets of his own? The father who made her promise to hide from Cartaxus at all costs? In a world where nature itself can be rewritten, how much can she even trust herself?
So, like I said before, I have to admit that the main reason I read this was because I ended up getting This Cruel Design at Book Con 2018 and I didn't realize it was a second book lol. I heard a lot of people were very excited for TCD, though, so I figured I would read the first book (aka this one) so I could read the second and see if I would keep it or give it to a friend. Thus, I picked up This Mortal Coil from the library and started reading. I'm not gonna lie, for the first 60% part, it was just ok/good. I'm not too into sci-fi in the first place and I only know the basics of genetics so part of it was that some of the genetics terms went over my head, at least in the very beginning. By the end, though, I started understanding more and felt like more things were being explained in a way that made sense and that I could more easily understand.
In terms of plot, I felt like there were some parts where it was a bit too graphic for me gore-wise. They were few (mainly in the beginning), and part of it was because I have an over imagination, but it's still something that turned me off a bit. Otherwise, I liked the plot. I do like technology and felt that it was explored in an interesting way, especially combined with the genetics aspect. As the book went on, I liked things more and more, and then I got over halfway through the book and things went WHOOSH I mean, the surprises and twists and turns that had happened really felt like I was on a rollercoaster and it was great!
Lastly, for the characters, the same kind of thing happened like with the plot: for the most part, they're eh, didn't really connect with them but some later parts made me catch my breath a couple times. Cat was really the only one I like (Cole seems like a bit of a tool ngl) but, like I said, I didn't really connect with her until past 50% of the book which isn't the best thing.
Overall, the book was good. It wasn't amazing but I did feel enough of a pull to the story and the characters that (1) I was on the edge of my seat a couple times, and, (2) I decided to read This Cruel Design (see my next review). If you're into sci-fi, tech, and/or genetics, I would definitely suggest you read this book, though, as it's probably more up your alley and you'll probably enjoy it more than I did.
Now, have you read This Mortal Coil yet? If so, what did you think? Are you excited to read This Cruel Design? Let me know in the comments below! Thanks, have a great day/night and tata for now!
Angel
*this post includes affiliate links I have with Amazon 😀