BTS To Take Extended Break For The First Time Ever
Korean-pop (K-pop) band BTS has become an international success over the past several years. With the additional recognition, they have performed more and more on various TV shows, at award shows, and playing back to back shows on tours. Unfortunately, as seen in their movie Burn The Stage, it can be hard on the boys – physically, mentally, emotionally – to do as much as they do without much of a rest. Thankfully, Big Hit Entertainment – the company that manages BTS – sent out a notice over their Twitter (below) that the band will go on an "official and extended period of rest and relaxation" after their performance at Lotte Duty's family concert.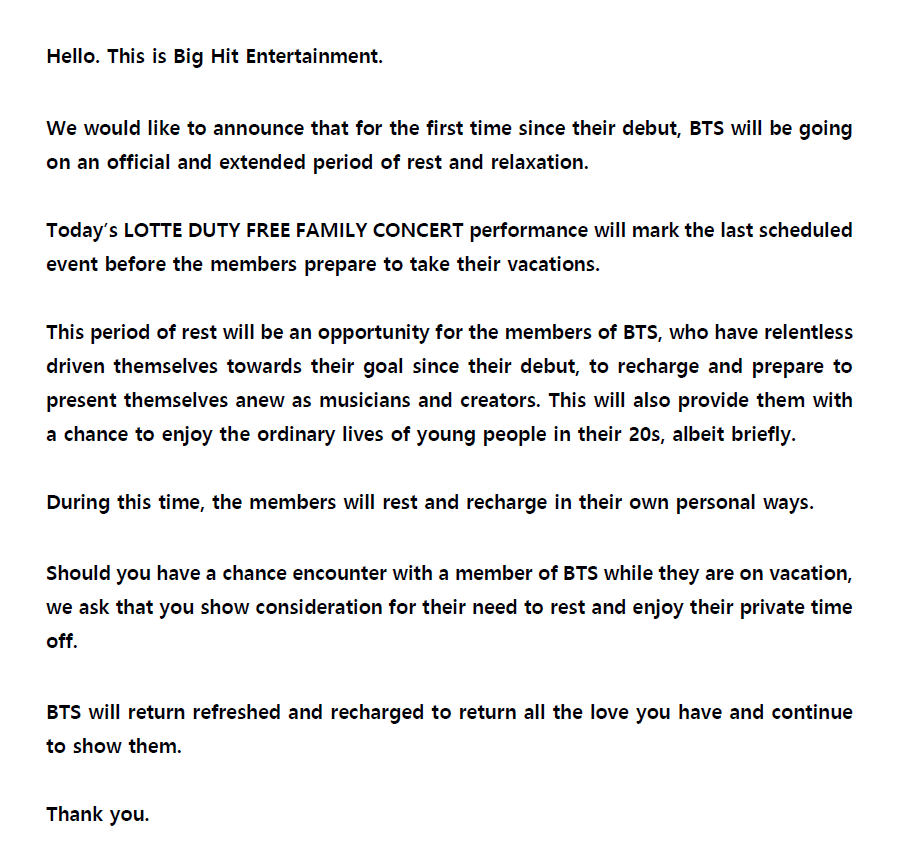 With the announcement came cheers of happiness and support from around the world by the band's fans, officially called ARMY. Over the years, many ARMY members have been worried about the boys' health and wished them to take care of themselves. As many fans have Tweeted, they're happy BTS is finally getting an extended time to do just that.
Though the notice did not say when the vacation will end, the band does have an upcoming concert scheduled in Saudi Arabia in October so we can speculate the vacation may end then, or, at the very least, be on pause for the concert then continue.
Personally, though I know Big Hit has BTS' best interests at heart and genuinely want to give the boys a break, I think it is also a great business move by the company such that more time and attention can be given to the firm's new band, Tomorrow X Together (TXT). Of course, other, bigger, entertainment companies have many bands working at one time, however, I believe that, for Big Hit, it will be a good idea to be able to focus on TXT more and build their brand in the meantime.